Revolutionary control with the Omni-System™ Plus Controller
Breanna Daugherty – Marketing Communications Specialist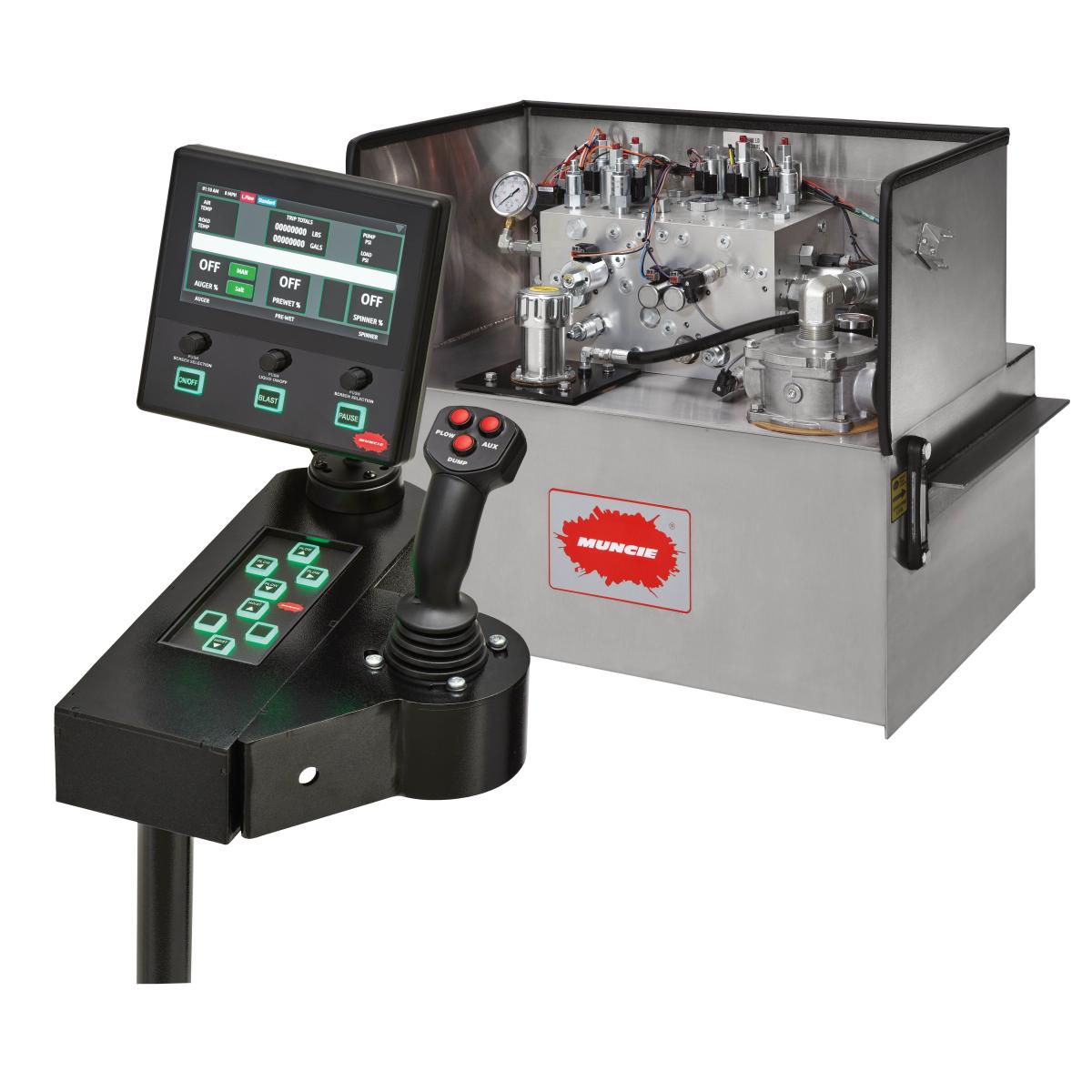 Imagine a single system that meets all of your functional requirements without sacrificing performance—imagine the Omni-System™ Plus in your fleet.
This new, extremely versatile controller drives numerous snow and ice applications, including V-body and tailgate spreaders, anti-ice systems, tow plow setups, directional spinner systems, and Power Float to reduce plow blade wear. Fleet managers are able to change bodies on the fly with no problem when utilizing the Omni-System Plus Controller.
It features a capacitive 7" touch display powered with NXP's IMX-6 high performance processor—this large touchscreen and processor provides vivid, easy-to-read graphics for day-to-day operation. It's also equipped with STM processor technology based on ARM cortex M4, which has increased the processing power by four times.
"The hardware overhaul allows Muncie Power to roll out additional features such as multiple camera inputs, video playback for operator training purposes, and more," said Embedded Engineering Manager Kevin Wijesekera.
Customer feedback drove the design of the Omni-System Plus Controller. It meets all equipment requirements on a single platform.
"We ultimately decided to maintain the tactile controls for optimum operator safety," said Group Manager – Technology Solutions Group Kevin Woehler. This allowed Muncie Power Products to maintain the goal of keeping the operator's eyes on the road, according to Woehler. Additionally, Muncie Power allows controller customization such as simple push buttons, multi-function dual axis joystick, or discreet joystick setups. With GPS enhanced data logging, fleet managers can monitor where a truck has traveled, spreader rates, salt usage, plow up or down, localized air and road temperatures, and much more.
The Omni-System Plus Controller comes equipped with remote diagnostic capabilities via Wi-Fi, including a remote diagnostic support application, which allows Muncie Power to provide immediate technical support without being on-site.
"The diagnostic application on the controller provides unparalleled customer support," said Woehler. "Our engineering team has the ability to observe all critical system information and remotely support our customers when they launch the application from the controller." Muncie Power can reset a passcode, increase actuator speeds, and diagnose an issue remotely through this application.
With its versatility and technological advances, the Omni-System Plus Controller works for you, instead of the other way around.
RELATED ARTICLES: